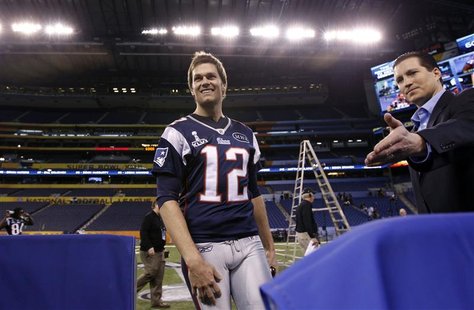 By Larry Fine
INDIANAPOLIS (Reuters) - New England Patriots quarterback Tom Brady can envision Sunday's Super Bowl coming down to a last-gasp, two-minute drive and said he worried that New York Giants counterpart Eli Manning could have the last word.
Manning steered New York to a last-minute touchdown in their Super Bowl triumph over New England four years ago and did it again in the Giants' regular season meeting with the Patriots last November in Foxborough, Massachusetts.
"I'd hate to see him with the ball, with time to spare and him needing a touchdown to win," Brady, a three-time Super Bowl champion, told reporters at Tuesday's Media Day crush at Lucas Oil Stadium in Indianapolis.
Manning set a National Football League record this year for most fourth-quarter touchdown passes and engineered seven go-ahead drives in the fourth quarter for New York wins.
"Eli is a great quarterback, no question about it. He's performed extremely well this year under pressure in big games," said Brady, no slouch in that department himself with two Super Bowl Most Valuable player awards.
Manning has said he prefers to be marching his team at the end of a game while trailing by four points rather than three so there is no question but to shoot for a touchdown, rather than have to factor in concern over keeping in field goal range.
"I feel the exact same way," said Brady. "I love being in the two-minute situation. I think you have a great rhythm for the game at that point.
"You pretty much have a feel for the rush, the coverages. Most of the two-minute coverages that you'll face are repetitive.
"So once you can get in the rhythm of the drive, it's tough for a defense to stop you and you feel like you can really be on the offensive when you're in that no-huddle mode."
Brady, 34, can easily imagine Sunday's title game coming down to the last drive.
"Eli does it as well as anybody. He did it against us, the last time we played the Giants in Foxborough," he said. "We've done a good job of that this year, moving the ball down in two-minute situations.
"Maybe it will come down to this. It's hard to believe that it wouldn't."
(Reporting By Larry Fine; Editing by Frank Pingue)