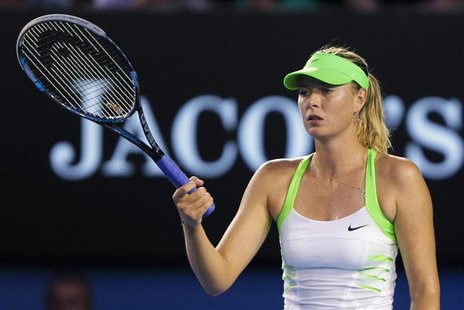 By Ian Ransom
MELBOURNE (Reuters) - Former world number one Maria Sharapova spent three years working her way back near the top of women's tennis following a shoulder injury in 2008.
In 82 shambolic minutes, as she lost the Australian Open to Victoria Azarenka on Saturday, the Russian inspired little confidence that she might ever reach her halcyon days again.
Fourth seed Sharapova's insipid 6-3 6-0 loss to the 22-year-old Belarusian followed her straight-sets thrashing by Petra Kvitova in last year's Wimbledon final.
At Wimbledon at least, the hard-hitting Sharapova went down fighting, despite being overpowered by a superior opponent.
Under the bright lights of Rod Laver Arena, with a fourth grand slam title to play for and the top ranking up for grabs, the 24-year-old threw away the match.
Had as much time been devoted to her polished runner-up speech as to her on-court strategy, Sharapova might have given the large centre court crowd a better show than the error-strewn performance served up.
Leading 2-0 against a grand-slam-final debutante looking jumpy and nervous, Sharapova managed only one more game for the match and signed off with a backhand blasted into the net, one of 30 unforced errors.
With the game slipping away from her and Azarenka drawing confidence from her opponent's profligacy, a change of approach was needed to stall the third seed's charge.
The only adjustment the long-limbed Russian could produce, however, was to blast the ball harder straight back at Azarenka, if not halfway up the net or well out of the court.
EXCUSES OFFERED
The baffling display led reporters to offer excuses in her post-match media conference. Was it nerves? Was it a bad warm-up?
"I actually wasn't nervous, I was just making errors," Sharapova, whose leadup was clouded by injury, giggled.
"It's frustrating, but I have a pretty good head on my shoulders in terms of having a good perspective on sport and life.
"And as hard as it is and as much as you want to be the champion, there's only one.
"I don't regret the work that I put in at all. Getting to this stage is great for me, especially not having played matches for three months.
"I honestly didn't know what to expect health-wise and game-wise. You just don't know."
Sharapova burst into the spotlight as a 17-year-old when she won Wimbledon in 2004 and she added the 2006 U.S. Open and 2008 Australian Open crowns before her 21st birthday.
The run to the Australian Open final will mean her ranking rising to three next week, behind top-ranked Azarenka and fellow baseline pounder Kvitova.
With women's tennis under fire from all quarters, with critics targeting the rankings system and a lack of stand-out champions, Sharapova remains in the hunt to reclaim the top ranking she last held in June, 2008.
Despite her pledges to bounce back, the lop-sided defeat did little to shake the perception of a lack of depth in the women's game, however, with Serena Williams struggling for fitness and Kim Clijsters playing out her valedictory year.
"I'm certainly happy with the level that I produced in the six matches (before the final)," Sharapova said.
"Everything is still a work in progress, whether I won today or not. It's still a moving train."
(Editing by Clare Fallon)