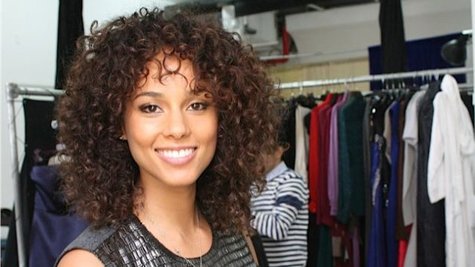 Alicia Keys celebrates her 31st birthday on Wednesday, and the multi-talented Grammy winner has plenty to celebrate in 2012. She's the producer of a current Broadway play Stick Fly ; she's nominated for a Director's Guild Award for her work on the Lifetime movie Five , she's the proud mom to 15-month-old son Egypt , and this year she's also going to focus on her day job as a pop superstar: she plans to release a new album in 2012.
Alica's been working on the album -- which will be her fifth -- since last year, and earlier this month, she visited Jamaica to do some recording there. Not long ago, Alicia told ABC News Radio that her state of mind is really influencing the music on the new album. "I just feel so good and I feel really at ease," she explained. "I feel very free. I feel very confident. I feel, really driven to put together an album that is unforgettable."
Admitting that she actually feels that way "every time" she makes a new record, Alicia says, "I think this time, I just feel it even more. I love the music -- it's crazy already, and obviously, there's more to make but I'm very excited for you to hear it."
So far, there's no release date for the album, but Alicia says she doesn't feel any pressure to get it finished and get it out there. "I feel calm," she says. "In the past, sometimes you feel like a rush to get it and do it, and hurry up. I obviously want it to come as soon as possible...but I just want people to feel that they're getting something that they'll take with them for the rest of their lives." As for what her new music sounds like, Alicia says it'll definitely be "a new sound," but she doesn't want to "define" it. However, she will say, "It does feel fresh."
Copyright 2012 ABC News Radio