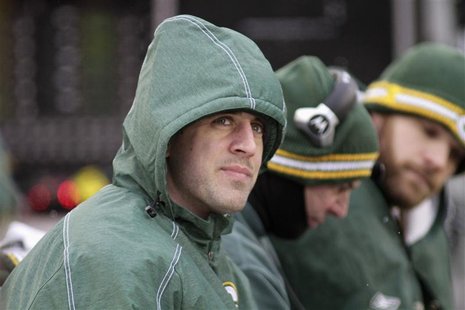 By Larry Fine
EAST RUTHERFORD, New Jersey (Reuters) - Green Bay Packers quarterback Aaron Rodgers said on Wednesday this week's death of offensive coordinator Joe Philbin's son had a deep effect on him, but that he hoped the tragedy could help bring the National Football League (NFL) team closer together.
The team was hit hard on Monday by news that 21-year-old Michael Philbin had been found dead by drowning just as the top-seeded Super Bowl champions began preparations for the start of their playoff push against fourth-seeded New York Giants.
"With the passing of Joe's son, it's been difficult, but I think it brings us together and makes us realize how important family is," Rodgers told reporters at the Giants practice facility on a conference call. "Not just our immediate family but also our football family."
The supremely confident Rodgers, who set a new NFL standard for passing proficiency with a record quarterback rating this season, said he was at a loss for words to comfort Philbin.
"Joe and I have a real tight relationship and to be honest, it's been real hard on me to not be able to have the words to comfort him and his wife and the family. It's been difficult. We love Joe, we're praying for him. We're behind him," he said.
Green Bay coach Mike McCarthy, who calls the offensive plays during the game, said he was not worried about team morale heading into their playoff opener on Sunday.
"There's a clear focus and understanding that professionally we're very blessed and fortunate enough to be in this position and it's important for us to take full advantage of this opportunity," said McCarthy.
"Joe, more than anybody, would want us to pour all of our heart and energy into our preparation and that's what the football team has done."
The Packers, coming off a bye, enter this postseason in stark contrast to last year when they overcame a flood of injuries to claim the Vince Lombardi Trophy as a wild card team.
This season, Green Bay flirted with perfection, getting their closest call against the Giants last month in a 38-35 win to go 12-0 before finally taking their only loss of the season two weeks later, falling 19-14 to the Kansas City Chiefs.
"Last year was different challenges," said Rodgers. "We had more injuries, 15 guys on the (injured reserve list), different guys filling spots," he said.
"This year we're not sneaking up on anybody. Being Super Bowl champs you often have a target on your backs. It's a different set of circumstances, a different adversity this year."
McCarthy said everybody on the team practiced Wednesday as the Packers took advantage of their week off to heal injuries. The coach sounded confident, but not about to overlook any opponent.
"Anybody who's been through playoff runs knows there is a clear line of distinction drawn between the regular season and the playoffs. We're one of four teams left in the NFC, and more importantly, it's us playing the Giants.
"I think you throw the seeds out the window. Now it's a football game between two teams that have earned the right to play in this tournament."
(Reporting by Larry Fine; Editing by Frank Pingue)