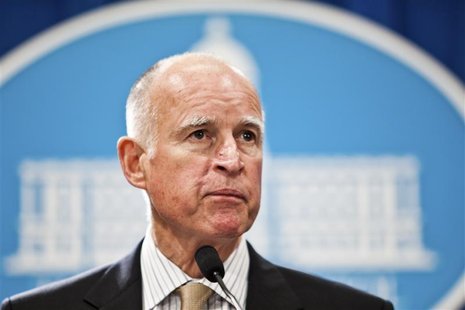 By Jim Christie
SAN FRANCISCO (Reuters) - California Governor Jerry Brown unveiled a $92.6 billion general fund budget on Thursday for the state's next fiscal year, aiming to close a projected $9.2 billion deficit with spending cuts and new revenue from a tax measure he expects voters will approve in November.
About half the proposed spending cuts will hit social services, including Medi-Cal, the state's healthcare program for low-income residents, and home healthcare services. The fiscal year starts July 1.
Brown said he is prepared to cut more spending if voters reject the tax measure, which is expected to raise $6.9 billion annually. Schools and community colleges would face nearly $5 billion in additional funding cuts under Brown's plan if the tax measure were to fail.
The tax initiative would increase the state's sales tax, currently at 7.25 percent, by an additional .50 percent, and raise income taxes on those earning at least $250,000 a year.
Brown last year failed to win over a handful of Republicans to gain the two-thirds majority needed for the legislature to approve a tax increase without going to the voters. That resulted in a budget thick with spending cuts to close a deficit of about $10 billion.
Republicans denounced Brown's budget as a ploy to push state residents into supporting tax hikes.
"This cynical, scare tactic budget strategy once again hinges on the hope that voters will ignore their own financial problems to bail out the Democrats with another ill-advised tax increase," said California Republican Party Chairman Tom Del Beccaro. "It didn't work last year and there's no reason to believe that a new year will bring new results."
State Treasurer Bill Lockyer, a Democrat, countered that Brown's budget "continues the progress made last year toward restoring stability, solvency and sanity to the state's finances."
"It's an honest, balanced and prudent plan. The budget would end the disinvestment in our schools and universities that is destructive to our future. And it wisely includes contingency measures that would take effect in case revenues fall short," Lockyer said.
'NOT NICE STUFF'
Brown's plan anticipates modest revenue growth, with revenue of $89 billion in the next fiscal year, and he said at a press event it would be essential for the government of the most populous U.S. state to raise revenue while holding the line on spending.
He said some cuts in his budget plan, such as $1.4 billion in cuts to welfare programs on top of roughly $5 billion in cuts to health and human services programs last year, may be hard for some lawmakers to swallow. However, Democratic lawmakers are expected to fall in line behind his budget, according to aides.
"This is not nice stuff but that's what it takes," Brown told reporters.
Brown proposed a total of $10.3 billion in cuts, revenue increases and one-time financial moves to balance the state's books and at the same time provide for a $1.1 billion reserve.
MORE CUTS IF MEASURE REJECTED
If voters reject Brown's tax measure, his budget plan proposed $5.4 billion in additional spending cuts to education and public safety.
Brown's back-up plan would reduce spending on schools and community colleges by $4.8 billion, the equivalent of reducing the school year by three weeks. It would also cut $200 million in funds for the state's two university systems and reduce spending on courts by $200 million. Smaller cuts would hit other state programs.
Total state spending in Brown's plan would come to $137.3 billion, which includes a $92.3 billion general fund, $39.8 billion in special funds and $4.9 billion in bond funds.
Lockyer noted that Brown's budget would allow California to sell $7.5 billion in debt over the next 18 months.
(Reporting by Jim Christie and Malathi Nayak in San Francisco; Editing by Bob Burgdorfer)