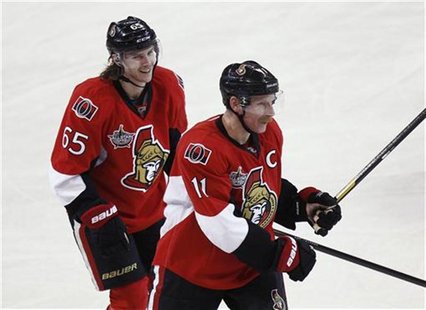 (Reuters) - The Ottawa Senators, riding a rush of fan support, will have four starters in the National Hockey League (NHL) All-Star Game in Ottawa on January 29, the league announced on Thursday.
Senators defenseman Erik Karlsson led all voting with captain Daniel Alfredsson, center Jason Spezza and left wing Milan Michalek also among the six starters selected by NHL fans.
Toronto Maple Leafs defenseman Dion Phaneuf and Boston Bruins goaltender Tim Thomas also will start.
Thirty-six other All-Stars will be selected later this month.
A draft will be held on January 26 to divide the group into the two competing teams, each comprised of 12 forwards, six defensemen and three goaltenders.
(Reporting By Gene Cherry in Salvo North Carolina; editing by Rex Gowar)