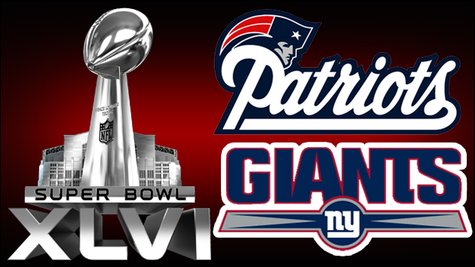 This Sunday, Kelly Clarkson will take the stage to sing the national anthem at the Super Bowl, making her the fourth American Idol alumn in five years to have that honor, following Jordin Sparks, Carrie Underwood and Jennifer Hudson. No male Idol alumn has ever sung the anthem, though a few weeks ago, some Adam Lambert fans started an online petition to draft the season seven runner-up because he was born in Indianapolis, the city hosting this year's game.
Last year's anthem singer, Christina Aguilera , made headlines when she blew the lyrics; the online betting service Bodog.com is now offering bets on whether or not Kelly will do the same. Messing up the lyrics are one thing, but bum notes are probably not something we can expect from Kelly, who has one of the most powerful voices in pop music today. Kelly's friend Clay Aiken tells ABC News Radio that the two just had dinner and discussed the nerve-wracking prospect of her singing the anthem, but Clay says she's stressing for no reason.
"Kelly is a girl who has proven to the world that she knows how to perform live. If anybody is suited to perform live on TV, as a singer, it's Kelly Clarkson," Clay tells ABC News Radio. He adds, "I told her, 'You know what? People will be talking about you the next day because you'll be the first person in six years who hasn't screwed it up!,'" adding, "This is her expertise, singing live on TV...I'm not worried about her at all."
Performing the anthem at the Super Bowl is usually a once-in-a-lifetime experience for an artist. However, there are a select few who've gotten to sing the Super Bowl National Anthem twice: Billy Joel, who sang the anthem before Super Bowl 23 and who returned in 2006 to do it again, and Aaron Neville, who did the honors in 1990 and in 2006.
For a historical perspective, here's a list of everyone who's ever performed or sang the National Anthem at the Super Bowl:
1 -- Universities of Arizona & Michigan Bands (1967)
2 -- Grambling University Band (1968)
3 -- Anita Bryant (1969)
4 -- Al Hirt (trumpeter) (1970)
5 -- Tommy Loy (trumpeter) (1971)
6 -- U.S. Air Force Academy Chorale (1972)
7 -- Little Angels of Holy Angels Church (Chicago) (1973)
8 -- Charley Pride (1974)
9 -- Grambling University Band (1975)
10 -- Tom Sullivan (1976)
11 -- Vicki Carr (sang "America the Beautiful") (1977)
12 -- Phyllis Kelly of NE Louisiana State University (1978)
13 -- The Colgate Thirteen (1979)
14 -- Cheryl Ladd (1980)
15 -- Helen O'Connell (1981)
16 -- Diana Ross (1982)
17 -- Leslie Easterbrook(1983)
18 -- Barry Manilow (1984)
19 -- Children's Choir of San Francisco (1985)
20 -- Wynton Marsalis (1986)
21 -- Neil Diamond (1987)
22 -- Herb Alpert (1988)
23 -- Billy Joel (1989)
24 -- Aaron Neville (1990)
25 -- Whitney Houston (1991)
26 -- Harry Connick Jr.(1992)
27 -- Garth Brooks (1993)
28 -- Natalie Cole (1994)
29 -- Kathie Lee Gifford (1995)
30 -- Vanessa Williams (1996)
31 -- Luther Vandross (1997)
32 -- Jewel (1998)
33 -- Cher (1999)
34 -- Faith Hill (2000)
35 -- Backstreet Boys; "America the Beautiful" performed by Ray Charles (2001)
36 -- Mariah Carey (2002)
37 -- Dixie Chicks (2003)
38 -- Beyoncé Knowles (2004)
39 -- Combined Choirs of the U.S. Naval Academy, U.S. Air Force Academy, U.S. Military Academy at West Point, U.S. Coast Guard Academy and U.S. Army Herald Trumpets (2005)
40 -- Aaron Neville with Dr. John And Aretha Franklin (2006)
41 -- Billy Joel (2007)
42 -- Jordin Sparks (2008)
43 -- Jennifer Hudson (2009)
44 -- Carrie Underwood (2010)
45 -- Christina Aguilera (2011)
46 -- Kelly Clarkson (2012)
Copyright 2012 ABC News Radio