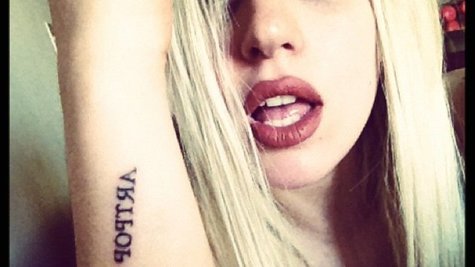 One of 2013's most anticipated releases is Lady Gaga's new album, ARTPOP. It's due in the spring, but Gaga's been talking about since the summer. What will it sound like? Well, the singer has just described the new disc as an "assault on your mind, ears [and] body."
Gaga made those comments during an online chat with fans on her social networking site LittleMonsters.com , the text of which was captured in a screenshot and posted on UltimateGaga.net . Comparing ARTPOP to Born This Way, Gaga wrote, "My favorite thing about Born This Way album is that it was risky and its own thing. ARTPOP is very risky," and added, "If you're not taking a risk you're not breaking any boundaries."
Gaga also wrote, "I feel like ARTPOP is what I've been making since [her debut album] THE FAME. It's what has defined me and my fans and we are claiming the music that is ours." She added that ARTPOP is "like an assault on your mind, ears, body."
Apologizing for the fact that fans have had to wait to hear ARTPOP , Gaga wrote , "I feel so bad. I know you all wanna kill me. But nobody writes my songs for me!. Every single song you've ever heard by me, I created from nothing with friends. So it takes some time. New inspiration. New sounds. New experiences."
A single from ARTPOP is expected early in the new year.
Copyright 2012 ABC News Radio