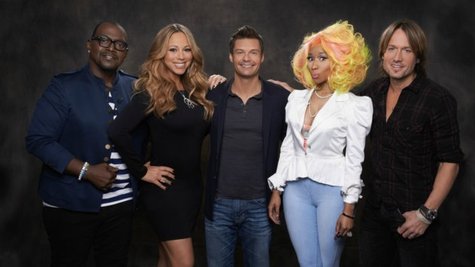 In 2012, music competition shows grabbed headlines more for their changing lineups, and less because of the stars they produced.
American Idol, once a ratings juggernaut, lost its traditional spot as TV's #1 show to Sunday Night Football, while The Voice's strong ratings helped propel NBC to its first November sweeps victor in nine years. The second season of The X Factor was a ratings disappointment, despite the much-hyped presence of new judges Britney Spears and Demi Lovato . And ABC's entry into the music competition race, Duets, was a flop, despite the involvement of A-list mentors such as Kelly Clarkson and John Legend .
Still, American Idol continued to be the only music competition show to produce hit artists. Phillip Phillips , the winner of Idol season 11, scored a massive hit with his coronation single, "Home," partly due to its use in NBC's coverage of the women's gymnastics competition during the Summer Olympics. It was the first American Idol coronation song to reach the top 10 in four years, and eventually became the best-selling coronation song ever. Phillip's debut album, The World from the Side of the Moon , reached #4 on the chart. By comparison, the winners of The Voice and The X Factor have so far failed to produce anything approaching a hit.
The announcement that Christina Aguilera and Cee Lo Green would take a break for season four of The Voice and be replaced by Shakira and Usher didn't cause much concern. However, the announcement of the departure of American Idol judges Jennifer Lopez and Steven Tyler set off a firestorm of speculation as to who would replace them. The answer itself caused controversy: Mariah Carey , Nicki Minaj and country star Keith Urban were announced as the unlikely new faces on the judging panel, with Randy Jackson the only holdover from the old days.
A leaked TMZ video of an on-set feud between Mariah and Nicki during auditions provided headlines for days; Mariah allegedly claimed Nicki threatened to kill her, while Nicki accused Mariah of playing into black rapper stereotypes. Some accused Idol producers of leaking the tape themselves to create hype for the new season, but that was denied.
Weeks later, Nicki said that she and Mariah had been "fine" on the set of the show, and told ABC's Good Morning America, "[Mariah's] been one of my favorite artists of all time since I can remember. So it's weird that everything was blown up like that. It didn't make me happy at all because she knows how much I adore her." However, in December, Mariah refused to answer a reporter's question about what Nicki brings to the show. Stay tuned for the fireworks when the new season debuts in January.
Copyright 2012 ABC News Radio