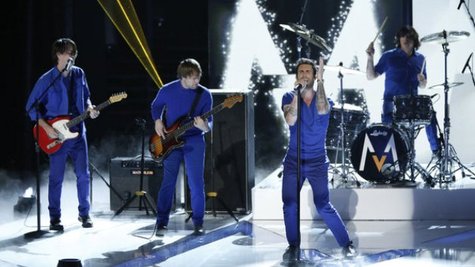 If 2011 was the year that Maroon 5 revived its career, 2012 was the year that they kept the ball rolling. Thanks to frontman Adam Levine's weekly trip into America's living rooms as a coach on the second and third seasons of The Voice, the band was top of mind all year. In February, they performed on the Grammy Awards with the Beach Boys , and in March, they had a new song on the soundtrack of one of the hottest films of the year, The Hunger Games .
Also in March, it was announced that keyboard player Jesse Carmichael would be taking a leave of absence from Maroon 5; he was temporarily replaced by PJ Morton, their touring keyboardist. But Jesse's absence didn't seem to hurt the band: their new album Overexposed -- title courtesy of Adam -- produced two massive hits.
"Payphone" debuted at #3 on the charts and scored the best digital sales week ever for a group. It peaked at #2 in the U.S., but became their first U.K. #1 hit, despite being written about a technology that few people use anymore. The follow-up, the reggae-inflected "One More Night," was even bigger, staying at #1 for an astonishing nine weeks, Maroon 5's longest-running chart-topper ever. They scored two Grammy nominations in December.
In 2012, Maroon 5 also toured South America, Asia and Australia, made their fourth appearance on Saturday Night Live , and announced a huge headlining tour for 2013. Meanwhile, Adam appeared in numerous magazine features, split with his Victoria's Secret model girlfriend Anne V and took up with another Victoria's Secret stunner, Behati Prinsloo . He landed a role on the acclaimed AMC series American Horror Story, and filmed his big-screen debut opposite Keira Knightley in the upcoming film Can a Song Save Your Life?
While his fellow Voice coaches Christina Aguilera and Cee Lo Green announced they'd be sitting out the show's fourth season, Adam intends to remain on the show, along with Blake Shelton . He told TV Guide , "I'd started to become cynical and jaded about the music industry and all the things that I had loved. This show kind of reinvigorated me. It's led to a renaissance, not just in my career but in my life." 2012 was certainly proof of that.
Copyright 2012 ABC News Radio