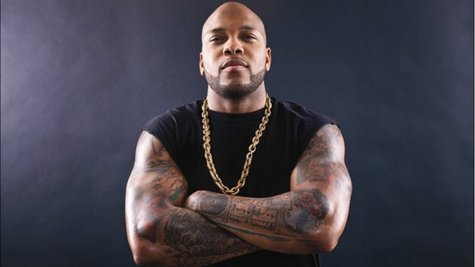 Flo Rida performed at the Macy's Thanksgiving Day Parade back in November, and on Monday night, he'll be rocking the stage on yet another American holiday TV institution, Dick Clark's New Year's Rockin' Eve with Ryan Seacrest. The rapper will perform during the West Coast party portion of the show, along with Justin Bieber , Pitbull , Karmin , The Wanted , PSY , Ellie Goulding and others.
Flo says he's thrilled to be part of the long-running show, telling ABC News Radio, "When you look back on it, I'm going to be proud to tell my kids, 'I was on the Dick Clark show'...it's gonna be crazy."
The reason why Flo is so happy about being on Dick Clark's New Year's Rockin' Eve is that he grew up watching Clark, who passed away earlier this year, on the TV legend's other iconic TV show.
"One of my fondest memories is [watching] American Bandstand ," he tells ABC News Radio . "It made a great impact. Me and my family always gathered 'round and was ready to watch whoever was coming on. And the fact that I'm on here today is just, like, amazing -- [a] dream come true."
But when he doesn't have a New Year's gig booked, Flo Rida enjoys hanging out with relatives -- "just being in Miami, Florida with my entire family," he says. And his most memorable New Year's Eve? "I remember the first time...[getting] a record deal," he recalls. "And just being able to set off tons of fireworks with the family."
Copyright 2012 ABC News Radio