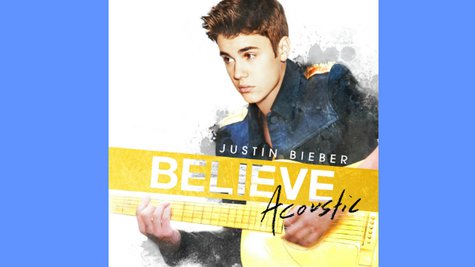 Justin Bieber wants his fans to know that his upcoming album Believe Acoustic just won't be stripped-down remakes of the songs from his #1 disc Believe: there will also be some new material on there.
Originally, the album was announced as having eight tracks, but Justin tweeted , "8 wasnt enough. had to write some more new ones. now im putting out 10 SONGS on #BELIEVEacoustic. Im telling u. PREORDER it now :)"
Believe Acoustic includes reworked versions of songs from Believe , such as "As Long as You Love Me," "Boyfriend," "Beauty and a Beat," "Be Alright" and "All Around the World." There's also a mysterious "Track 8" as well as the two new songs.
Further hyping the new release, Justin tweeted, "every song has a new guitar arrangement..1 w/ piano. everything feels new." He then added the hashtag "#KIDRAUHL" and wrote , "u guys r gonna like it."
"KIDRAUHL" is the YouTube name under which Justin posted videos of himself performing acoustic cover versions of other artists' songs when he was unknown. In essence, he's saying that anyone who liked his acoustic covers from back in the day will enjoy the new record.
Believe Acoustic is due out January 29.
Copyright 2012 ABC News Radio