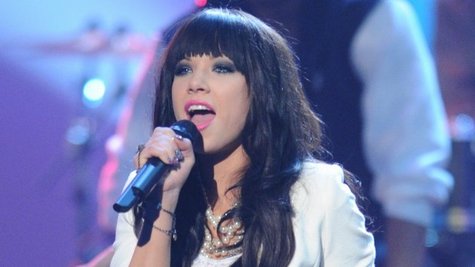 Chances are that this time last year, you had never heard of the four artists who made some of the biggest chart splashes of 2012 -- unless you were Canadian, Australian, South Korean, or an indie rock fan. Carly Rae Jepsen, Gotye, fun. and PSY seemingly came out of nowhere to rule the Billboard Hot 100 and YouTube all year.
Carly Rae Jepsen's story was the most Cinderella-like. After coming in third on Canadian Idol a few years ago, she was toughing it out on the road as a touring musician when a fellow Canadian musician -- his name's Justin Bieber -- happened to hear her song "Call Me Maybe" on the radio during a visit back home. After tweeting about how catchy the tune was, he discovered she didn't have a U.S. record deal, so he and his manager Scooter Braun signed her. Justin and his pals made a viral video of them lip-synching the song, which unleashed a flood of similar videos, by everyone from Katy Perry to Sesame Street's Cookie Monster to the U.S. Women's Olympic Swim Team.
"Call Me Maybe" topped the charts for nine straight weeks, making it the longest-running #1 of the year, along with Maroon 5's "One More Night." Carly then proved she wasn't a one-hit wonder, by scoring a hit duet with Owl City, "Good Time," and releasing her U.S. debut album, Kiss , which debuted in the top 10. She ended the year by winning the American Music Award for Best New Artist, receiving the Billboard Rising Star Award and grabbing two Grammy nominations. She'll ring in 2013 live in New York City's Times Square, on ABC's Dick Clark's New Year's Rockin' Eve with Ryan Seacrest.
Gotye, the stage name of Australian singer-songwriter Wally De Backer , had been making records for years and was already a big star Down Under, but in 2012, the world suddenly became aware of his song "Somebody That I Used to Know." The song's striking video , which features a naked Gotye and his duet partner, New Zealand singer Kimbra , being covered in body paint, was first posted to YouTube in the summer of 2011. After inspiring countless covers and parody videos, radio picked up on the track and it topped the chart for eight weeks. Gotye ended the year with three Grammy nominations, and "Somebody That I Used to Know" was named Billboard's Hot 100 Song of the Year for 2012. He has yet to score a follow-up hit.
The New York-based indie rock band fun. had been around since 2008, but at the end of of 2011, a wider audience became aware of the group when Glee covered their song "We Are Young." Then, in February, the song was used to soundtrack a commercial for the Chevrolet Sonic, which aired during the Super Bowl. The song's popularity exploded and it ended up topping the charts for six weeks. Headlining tours, festival appearances and a Saturday Night Live slot for the trio followed, and they released another big hit, "Some Nights." fun. capped off the year with a whopping six Grammy nods, becoming the only rock group ever to receive nominations in the four major categories in the same year: Record, Song and Album of the Year, and Best New Artist.
The most unlikely hit of 2012 was a song that wasn't even in English. Thirty-four-year-old South Korean rapper PSY captured the universe's attention with his outrageous, over-the-top video for his dance/rap tune "Gangnam Style." Soon, everyone was doing the video's signature horse-riding dance move and the song shot up the charts, reaching as high as #2. PSY began popping up everywhere, from Saturday Night Live to the American Music Awards, where he danced with MC Hammer . He also performed his song onstage with Madonna . Meanwhile, the "Gangnam Style" video became the most-watched YouTube clip in history, with over 930 million views since July, and climbing.
Unfortunately, PSY's amazing year was marred by an early-December controversy: it was revealed that in 2004, he appeared at a protest concert and performed a song whose lyrics advocated killing U.S. soldiers. This happened just days before the rapper was to appear at a taping of the TNT special Christmas in Washington, before an audience that included President Obama. Psy issued a lengthy apology and was not booted off the show; he taped it as planned, and even received a handshake from Obama afterward. He'll ring in 2013 performing live in Times Square on Dick Clark's New Year's Rockin' Eve with Ryan Seacrest.
Copyright 2012 ABC News Radio