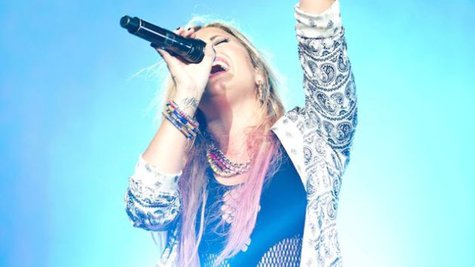 While some made merry on Christmas Eve, Demi Lovato took a moment to reflect in song about the 26 victims of Connecticut's Sandy Hook Elementary School shooting, and to raise awareness for the charity We Are Newtown.
In a video posted to YouTube, Demi is shown standing in a candlelit room with a piano player and guitarist, performing a version of the 1993 song "Angels Among Us," originally recorded by the country group Alabama . The song's lyrics speak of "Angels among us/ Sent down to us from somewhere up above.../[who] come to you and me in our darkest hours.../To guide us with the light of love."
"We can never imagine what the families in Newtown, Connecticut are experiencing right now," says a message at the beginning of the video. "And while there is nothing we can do to replace their loss, we can stand together and support them during this difficult time. This song is in honor of those angels we lost on December 14."
The message screen also display the Web address WeAreNewtown.org , online home of an initiative founded to coordinate fundraising, scholarship and goodwill efforts in response to the tragedy.
Copyright 2012 ABC News Radio