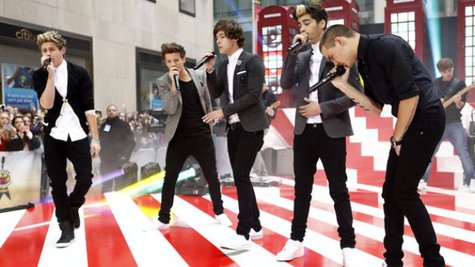 2012 was the year of a new British invasion, where U.K. acts like One Direction , The Wanted , Cher Lloyd , Ellie Goulding and Ed Sheeran all scored big hits on the U.S. charts. Having spent the past year touring around America, the Brit Pack is now headed home for the holidays. Here are some of their thoughts:
Even though the guys in One Direction get along great, they've been living in each others' pockets for the past year, so over Christmas, it'll be time for Louis , Zayn , Niall , Harry and Liam to go their separate ways...a little bit.
Zayn says, "Obviously [because] we spend so much time together on the road and stuff, when it gets to holidays, we tend to spend a lot of time with our families." But, he adds, "We do try to see each other as much as we can, though." It's not clear whether or not the boys will exchange gifts, but Zayn's got a special one in mind. "I'm a big kid. I like toys, so hopefully, someone's got me a remote-controlled helicopter," he says. "That'd be wicked!"
After touring the U.S., duetting with Taylor Swift and scoring a Grammy nomination, One Direction's buddy Ed Sheeran is ready for some Christmas downtime. What's his holiday wish? "That every one has a good break and chills out a little bit, has fun with their family, and releases one notch on their belt after a meal," he says.
Ellie Goulding's literally had a good year in the U.S.: her smash "Lights" has spent an entire year on the Billboard chart. She'll be back home in England for the holidays but she doesn't have any Christmas traditions to speak of. "I feel this is maybe a very American thing, or something, because I don't know anyone who has any special traditions," she tells ABC News Radio. "Obviously, the food is the main thing. It always has to be turkey and it's...always the same every year."
She adds that just hanging out with relatives will be enough of a unique holiday activity for her. "I haven't spent Christmas with all of my family for a long time. So, this year I think it's gonna be really, really special," she says. "So, I'm particularly looking forward to it."
Relatives are also on Cher Lloyd's Christmas list. Asked what she's most looking forward to about the holiday season, the "Want U Back" singer tells ABC News Radio, "Just sitting together as a family. Uncles, aunts, and just spending the day together." She'll be back in the U.S. in 2013, as will all of the Brit Pack, as they continue to conquer the hearts and minds of the American music-loving public.
Copyright 2012 ABC News Radio