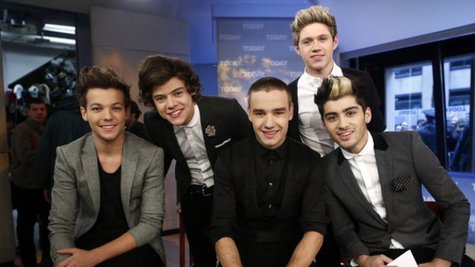 One Direction 's upcoming 3D film promises to give fans an up-close-and-personal look at the group...but now it turns out the movie will also feature a look at the fans themselves.
In a video , the One Direction guys invite fans to share their unique 1D stories on video and upload them to YouTube, for possible inclusion in the film. As Zayn Malik explains, "It can be a story about how you met other One Direction fans from around the world or just something crazy you've done to prove that you're our biggest fan."
Here's how it works. You log into your YouTube account, record a minute-long video of yourself telling your story and upload it to your account. Then, you change your privacy settings from "public" to "unlisted" on the video, and title it "1D3D Movie" and the name of the city where you'll be seeing the guys in concert. Put your first name and Twitter handle in the video description, and then email the link to 1D3Dfans@gmail.com. Got all that?
The One Direction 3D film, directed by acclaimed documentary maker Morgan Spurlock , will be in theaters in August of 2013.
Copyright 2012 ABC News Radio