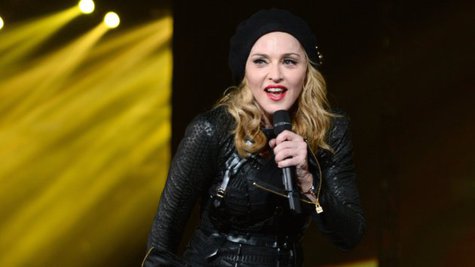 Poor Madonna . On Saturday night, as she was preparing to triumphantly wrap up her hugely-successful MDNA tour with one final show in Cordoba, Argentina, the generator broke down, cutting off electricity to the stage, reports the British paper The Express .
The power failure came just as Madonna was kicking off her performance of "Open Your Heart." But trouper that she is, the star and her backup dancers continued their routine, and Madonna sang using a megaphone. The problem lasted for 45 minutes, but Madonna kept the crowd entertained, even leading them in an a cappella singalong to her hit "Holiday."
After power was restored, reports The Express , Madonna thanked the crowd for their patience. And after the show, her manager, Guy Oseary, tweeted , "Thank you Madonna and fans for an experience of a lifetime! This was an amazing journey. I'm grateful to Madonna and her incredible fans."
Billboard named Madonna's MDNA tour the #1 tour of 2012: as of November 13, it had raked in $228,406,085. When the rest of the dates are figured in, the total will soar even higher.
Copyright 2012 ABC News Radio