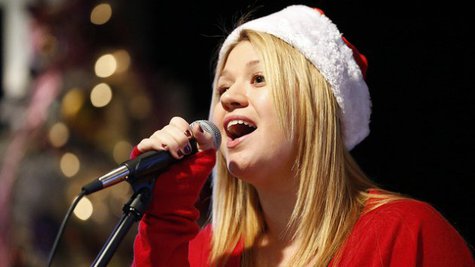 Kelly Clarkson helped make this Christmas season special for some special children last week. The singer stopped by the Monroe Carell Jr. Children's Hospital in Nashville this past Friday afternoon to visit patients, staff and families...and sing, of course.
Kelly's visit was organized through Musicians on Call , an organization which brings live and recorded music to the bedsides of patients in healthcare facilities. While at the hospital, Kelly hung out with the children and performed an acoustic set that included "Rudolph the Red-Nosed Reindeer," "White Christmas" and Mariah Carey 's "All I Want for Christmas Is You." Kelly also made special visits to the rooms of those kids who weren't able to come to the hospital theater and hear her sing.
In a statement, Kelly said, "This is such a special time of year and I'm so happy to be able to share it with all of these great kids. I'm probably having just as much, if not more, fun than they are."
She added, "I heard about Musicians On Call from a friend of mine and I thought this would be the perfect way to get involved with a hospital music program here in Nashville. I love playing for the kiddos!!"
Copyright 2012 ABC News Radio