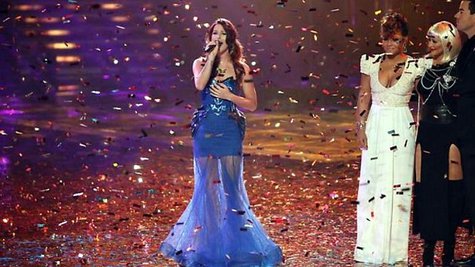 Cassadee Pope had a pop/rock background when she first auditioned for The Voice, but her biggest success on the show came when she sang a country song: "Over You," co-written by her coach Blake Shelton and recorded by his wife, Miranda Lambert . Now, the newly-crowned champ of season three says that her debut album will definitely include some country music elements.
Speaking to Entertainment Weekly , Cassadee mentions Taylor Swift as someone who's managed to successfully mix country and pop, and says, "Taylor Swift is something I'm really scared to compare myself to, but it's true. I want to do an edgier...Taylor Swift: not as country, with more mature lyrics and more challenging vocals and melodies."
According to Cassadee's new record label, her official debut single will be her version of "Over You," and it'll be released in January.
Asked if she's concerned about the fact that the two previous winners of The Voice -- Javier Colon and Jermaine Paul -- haven't had much success on the charts, Cassadee told EW, "Maybe they just haven't found the person that's going to break into the mainstream world yet." She notes that adding the iTunes component this year, as well as the other changes, "really made a lot of sense," because, she says, it made the show "more about relatability" than who has the best voice.
"It's funny -- it's called The Voice , but I sure as hell didn't have the best voice on the show. I'll admit it," says Cassadee.
A 12-track digital album from Cassadee is now available on iTunes, and in addition to "Over You," it features her versions of "Payphone," "Behind These Hazel Eyes," "Are You Happy Now," "I'm With You," "Cry" and "Stupid Boy," among other songs, as well as a duet with coach Blake on "Steve McQueen." Albums from runners-up Terry McDermott and Nicholas Blake are also now available on iTunes.
Copyright 2012 ABC News Radio