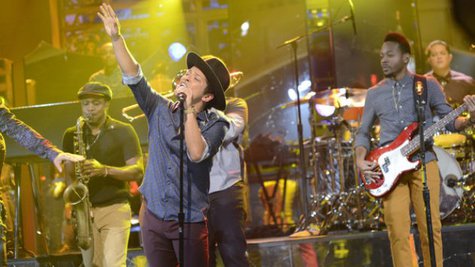 If you didn't get to check out Bruno Mars ' turn as both host and musical guest on Saturday Night Live earlier this year, you'll get a second chance this Saturday night, when his episode reruns. That particular episode, which aired in October, scored the best ratings in seven months for SNL , and ended up being the season's highest-rated episode.
If you think you don't need to watch the rerun because you've already seen all of Bruno's skits online, think again. There's never been an official, high-quality, full-length version posted online of the episode's best skit: the one where Bruno played an intern at an Internet radio company who has to mimic all the company's artists when the power goes out. That was likely due to music clearance issues, since during the skit, Bruno imitates Aerosmith , Michael Jackson , Katy Perry and Green Day .
Regarding his invitation to be both the host and the musical guest of the episode, Bruno told Paper magazine , "To this day we don't know why that happened. I was skeptical. Everyone was skeptical." He even says that he told SNL's head writer Seth Meyers , "I signed up to go down in flames." Instead, he triumphed, singing his monologue, appearing in numerous skits and performing two tracks from his new album Unorthodox Jukebox.
Bruno told Paper that he psyched himself up for SNL by telling himself, "If you don't do this, you wasn't made for this sh** if you can't take on something like that." He adds, "It was kind of a challenge. It was like, 'F**k it, let's go.'"
Copyright 2012 ABC News Radio