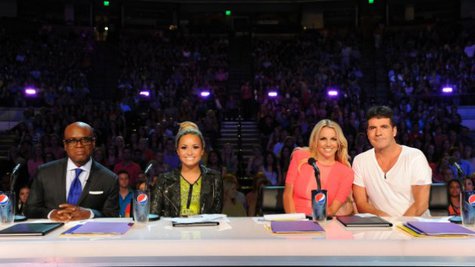 The final three acts on The X Factor performed on Wednesday's live edition of the Fox show, in the hope of securing enough of America's votes to be crowned the winner on Thursday. The prize is a $5 million recording contract.
The show opened on a somber note, as Simon Cowell took a moment to send thoughts and prayers to the victims of the recent Newtown shootings. This was followed by the cast of season two and a choir, dressed in white, singing Michael Jackson 's "You Are Not Alone."
Carly Rose Sonenclar , representing Britney Spears ' Teens category; Tate Stevens , mentored by L.A. Reid in the Over 25s; and the girls of Fifth Harmony from Simon Cowell's Groups category all sang three times in front of a live audience. Demi Lovato , who was looking after the Young Adults category, has no acts in the finals.
The first song choice was a season favorite, and the second was a duet with a special surprise guest. The third was each act's "$5 million" song.
Here's a brief look at how the performances went down:
Teens/Britney Spears:
--Carly Rose Sonenclar is 13 years old and lives in Westchester County, NY. She has matured as an artist over the season and is known for singing big ballads. For her first performance, she reprised her audition song, "Feeling Good," by Nina Simone . L.A. said this performance "topped everything" she had already done. Demi told Carly she's inspiring young people to follow their dreams. Simon said she improved on her already-great audition version of the song.
--Carly was joined by LeAnn Rimes on her song "How Do I Live."
--The teenager finished with a version of Leonard Cohen 's "Hallelujah." L.A. called it an "angelic moment." Demi said she was always impressed by Carly's vocals. Simon said Carly had a good night.
--In a live link to Westchester, where her fans were gathered, the mayor named December 19 "Carly Rose Sonenclar Day."
Over 25s/L.A. Reid:
--Tate Stevens does a little bit of everything in the country genre – from traditional country roots to country rock and ballads. His first number was the Randy Houser song "Anything Goes." Britney said Tate was "right on." Demi said it was a "stadium performance." Simon agreed, and said Tate had kept his integrity throughout the contest.
--Joining Tate for his second song was Little Big Town for their hit song, "Pontoon."
--The 37-year-old finished the night with a version of Chris Young 's "Tomorrow." Britney said she always enjoys Tate's performances. Demi said she was going to miss seeing Tate sing. Simon thought in a year's time everyone would be hearing Tate's singles, regardless of the result.
--Tate's supporters in Belton, MO, included his old boss and the mayor, who unveiled a local water tower named in Tate's honor.
Groups/Simon Cowell:
--The five girls in Fifth Harmony, whose ages range from 15-19, were assembled from various solo singers who originally failed their individual auditions. They reprised one of their season's highlights, singing "Anything Could Happen," by Ellie Goulding . L.A. has completely changed his thoughts on the group since first seeing them, calling the girls "the ones to beat." Britney said the performance was spectacular, girly and fun. Demi hoped Fifth Harmony would get America's votes.
--Demi Lovato joined Fifth Harmony for her song "Give Your Heart a Break."
-- Dinah , Lauren , Ally , Normani and Camila finished with a version of The Beatles ' "Let it Be." L.A. said they were "magic happening before our eyes." Britney said the girls had come a long way. Demi was proud of their achievements.
--Live cameras were at the church Ally Brooke attends in San Antonio, TX, where fans sent her and the group best wishes.
The X Factor two-hour season finale airs Thursday at 8:00 p.m. Eastern time.
Copyright 2012 ABC News Radio