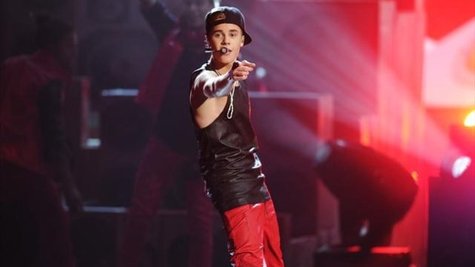 You've seen lists of the best songs of the year, but what about the best song lyrics? Entertainment Weekly has rounded up what it considers to be the crowing achievements in songwriting this year, as well as some songs that would get an "F" from your creative writing teacher.
Among the best lyrics of the year, according to EW, is a line in Taylor Swift 's monster hit "We Are Never Ever Getting Back Together." Ironically, it's the lyric in the song that she doesn't sing...she just says it: "And I'm like… 'I just… I mean, this is exhausting, you know. Like, we are never getting back together. Like, ever.'"
EW also praises lyrics from Fiona Apple , rapper Rick Ross and R&B Grammy darling Frank Ocean . But when it comes to the worst lyrics of the year, take a bow, Train. The magazine doesn't like the chorus of the band's hit single "Drive By," specifically, the lyric that goes, "Just a shy guy/Looking for a two-ply/Hefty bag to hold my love."
One Direction 's "Little Things," written by Ed Sheeran , is also mocked by EW for the lyric, "You still have to squeeze into your jeans /But you're perfect to me." And the magazine hates this lyric from Justin Bieber 's "Boyfriend:" "Swag swag swag, on you/Chillin' by the fire while we eatin' fondue."
Finally, EW says there's one song that contains the lyric that's both the best AND the worst of the year...and no, it's not "Gangnam Style." It's Carly Rae Jepsen 's "Call Me Maybe," and the lyric in question is: "Before you came into my life/I missed you so bad." It's either super-clever, or nonsensical, depending on how you look at it.
Copyright 2012 ABC News Radio