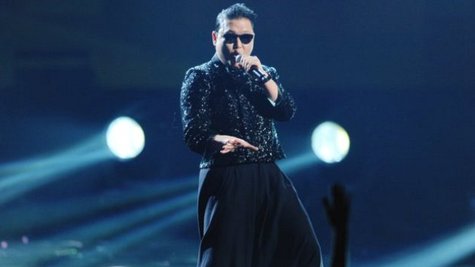 PSY's "Gangnam Style" video became the most-watched YouTube clip of all time in 2012, so it's not surprising that the over-the-top clip also came in at #1 on YouTube's list of the Top 10 Viral Videos of 2012.
As Entertainment Weekly reports, two other music-centric videos also made the top 10. Coming in at #4 is Justin Bieber and Selena Gomez 's lip-dub version of "Call Me Maybe," which they made with friends like Ashley Tisdale . That video was instrumental in making Carly Rae Jepsen 's song a huge hit, and it also kicked off a wave of similar videos by everyone from the Cookie Monster to Barack Obama .
And in the #2 spot, it's Walk off the Earth 's cover version of Gotye 's "Somebody That I Used to Know," which memorably features all five band members playing the song on a single guitar. Earlier this year, the video became the most popular cover song ever posted on YouTube.
Other viral videos that made YouTube's Top 10 include the awareness campaign against rebel leader Joseph Kony for his human rights atrocities across Africa and footage of Felix Baumgartner 's 128,100 foot sky fall from the edge of space to Earth.
Copyright 2012 ABC News Radio