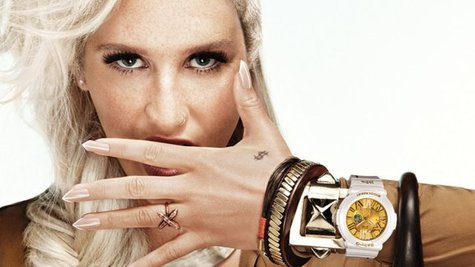 If you're looking for the perfect Christmas gift that goes "Tik Tok," then the new watch Ke$ha has designed for Casio should fit the bill.
Ke$ha first teamed with Casio to create a line of Baby-G brand women's watches last year; now, her brand-new design is available at Macy's Nordstrom, Tourneau watch stores and various fashion boutiques. The new limited-edition watch features a white case, a gold pin-striped band emblazoned with Ke$ha's logo, and a gold 3D Roman numeral display. It also features "Neon Illuminator" technology, where a black light LED illuminates special luminous ink on the dial's hour and minute markers.
In a statement, Ke$ha said, "Just like music, fashion is a form of expression. And as you might have been able to tell, I'm all about expressing myself," adding, "Having a good time with your style is so important, and that's why I'm thrilled with the design of my new go-to accessory with Baby-G!"
The watch retails for about $130.
Copyright 2012 ABC News Radio