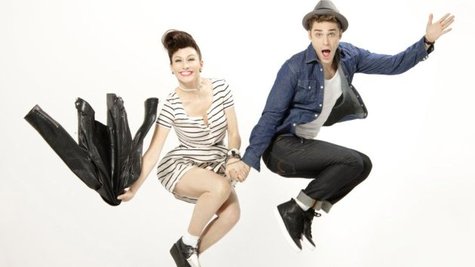 Despite the fact that they're engaged, Karmin 's Amy Heidemann and Nick Noonan don't usually shower each other with gifts during Christmas. One reason is because, until recently, they were usually broke, so they would sometimes skip the gift giving with each other...but that doesn't mean their families didn't get anything.
Asked to describe the best gift she ever gave someone, Amy tells ABC News Radio, "I like creative gifts that keep giving." For example, she says, "My dad is a closet rock star. He always wanted to be the fifth Beatle. So, I got him a online guitar class, which was cool 'cause it was, like, 12 weeks and really intensive and at the end of it, he was a better guitar player."
As for Nick, he says he got major points for buying his mom a nice handbag and sunglasses, which doesn't sound too impressive, until you consider the kind of gifts most people in his family exchange.
"You just have to know our family," he tells ABC News Radio, while Amy adds, "His family's pretty silly. Somebody got him a rubber mallet last year." While Nick says that bizarre gift was "awesome" and "hilarious," Amy says disapprovingly, "That's pretty rude. So sunglasses and a purse are really good." "That's really nice around the Noonan household," laughs Nick.
Amy and Nick do admit, though, that the best gift they ever got each other was the year the decided to invest in audio and video equipment so they could start recording and posting cover versions of popular songs to YouTube. It was a great decision, since those covers became so popular that the duo ended up getting a record deal out of it.
Copyright 2012 ABC News Radio