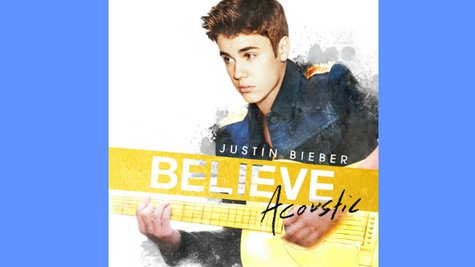 If you like the acoustic version of "As Long as You Love Me" that Justin Bieber performed on the American Music Awards last month, you'll love his new album.
Justin tweeted the cover of his much-hyped acoustic album on Thursday, and it's called Believe Acoustic , which leads us to believe that it will feature many of the songs from the Believe album, including "As Long as You Love Me," stripped down to the basics. As Justin revealed on The Ellen DeGeneres Show last week, the album will be out in January, when his Believe tour resumes.
This will be Justin's second acoustic album: in 2010, he released My Worlds Acoustic . It featured acoustic versions of songs from his debut EP My World and his first album, My World 2.0 .
Justin also has some other big plans for 2013, but he's keeping quiet about it. All he'll say is, "i promise you what i got planned for 2013 u r not expecting. :)"
Copyright 2012 ABC News Radio