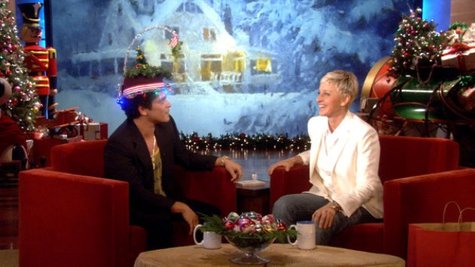 Bruno Mars has been making the rounds to promote his new album Unorthodox Jukebox , but when he appeared on The Ellen DeGeneres Show on Tuesday, he reached back to his debut album, Doo-Wops and Hooligans, for a special performance.
Ellen introduced Bruno by referring to the recent school shootings in Connecticut, saying, "I think we can all agree that we need a lotta love out there right now, so today, I thought we'd start the show a little differently. Give it up for my friend, Bruno Mars." Bruno then took the stage with a ukulele to sing "Count on Me," a song from his first album. The touching track speaks about always being there to provide support for a friend in times of need.
Afterwards, Bruno and Ellen lightened the mood, as she presented him with a special tinsel-encrusted Christmas hat that had a sprig of mistletoe attached...and the two then shared a holiday kiss.
Copyright 2012 ABC News Radio
video platform video management video solutions video player
video platform video management video solutions video player