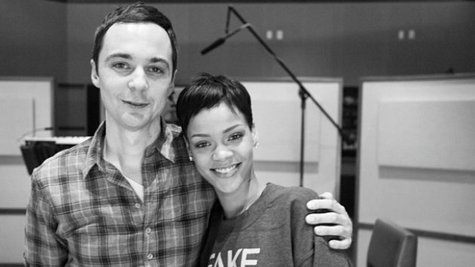 Most of Rihanna 's activities these days are of the R-rated variety, so it's nice to hear that she's up to something wholesome for a change. The singer recorded her part for the upcoming animated film Happy Smekday on Friday, and wrote on Twitter , "Had a blast today! So weird recording for animation, but I get to keep my accent! AND it's PG, which mom should be happy about! Brrrap!!"
Rihanna also posted a photo of herself with her Smekday co-star, Big Bang Theory actor Jim Parsons , whom she calls "very talented." As previously reported, Happy Smekday is about a friendly alien race which uses Earth as a hideout from its enemy. But when one of the aliens accidentally blows their cover, he has to go on the run with a teenage girl. The two set off on a cross-country trip during which they both learn what it means to be human. Parsons plays the alien, and Rihanna plays the girl.
Meanwhile, the British tabloid The Sun reports that Simon Cowell wants Ri-Ri to forget about movies and come over to TV -- specifically, he wants to hire her to be a judge on The X Factor .
According to The Sun , the X Factor honcho is "a huge admirer of Rihanna and knows she's star quality. As well as bringing an aura to the panel thanks to her current standing in music, she is also feisty and will make great TV." The paper claims that since Simon spends his Christmas break in Barbados, and that's where Rihanna is heading as well, he plans to have a chat with her about the offer during that time.
What makes this story less than believable, however, is the paper's further claim that in addition to Rihanna, Simon wants to hire Chris Brown to replace departing judge L.A. Reid on the show, because he knows it'll bring "huge publicity."
Copyright 2012 ABC News Radio