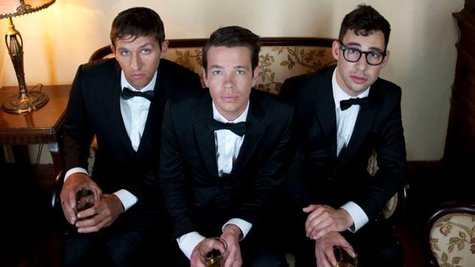 fun.'s smash hit "We Are Young" was so ubiquitous in the past year that there was some concern that they wouldn't be able to follow it up, but they did, scoring another smash with "Some Nights." But the band says it was their Grammy nominations -- six in all -- that finally eased their fears of being "that 'We Are Young' band."
Noting that they've been nominated for Record, Song and Album of the Year, in addition to Best New Artist, fun. guitarist Jack Antonoff tells Rolling Stone , "To have the album recognized and have songs other than 'We Are Young' recognized makes us feel like we pushed past what we wanted to and became so much more than just a big song."
He adds, "That was, for me at least, the last affirming moment [to say] 'Okay, f*** it, I can stop worrying about being a one-hit wonder, because we just got nominated for Album of the Year!'"
As for whether or not fun. will perform at the Grammys on February 10, Jack says they aren't just assuming that an invitation will fall into their laps. But if it does, he says they've got an idea for a cool collaboration they'd like to do on the telecast.
"Fingers crossed that we'll get asked to play," says Jack. "We've got something in our back pocket if we were to get asked that we've sort of always dreamed about."
Copyright 2012 ABC News Radio