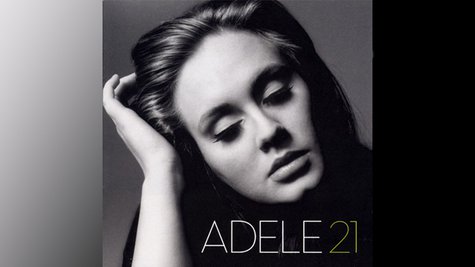 Adele's album 21 was the best-selling album of 2011 on iTunes, and guess what? It's also the online music store's best-selling album of 2012.
The Grammy-winning disc, which came out at the beginning of 2011, tops iTunes' annual list of the biggest albums on the site for a second year in a row. That's not surprising, considering 21 continued to sell so strongly this year that it hit the 10-million sales mark. According to Yahoo!'s Chart Watch , the album has sold 4,255,000 copies so far in 2012. Last year, it sold just under six million.
The second best-selling album of the year on iTunes is Taylor Swift's Red, which is surprising, since it was only released in October. The rest of the top five iTunes best-sellers of the year include Mumford & Sons ' Babel , One Direction 's Up All Night and fun. 's Some Nights.
On the song side, the best-selling track of the year on iTunes was Carly Rae Jepsen 's "Call Me Maybe," followed by Gotye 's "Somebody That I Used to Know," fun. 's "We Are Young," Maroon 5 's "Payphone" and "Starships" by Nicki Minaj .
iTunes editors, meanwhile, have offered their own picks for the best songs and albums of the year, regardless of sales. Their Best Song of the Year overall is fun. 's "We Are Young," while Frank Ocean is their Artist of the Year. Best Pop Song of the Year is "Wide Awake" by Katy Perry , while Pink 's The Truth About Love is the Best Pop Album.
Copyright 2012 ABC News Radio