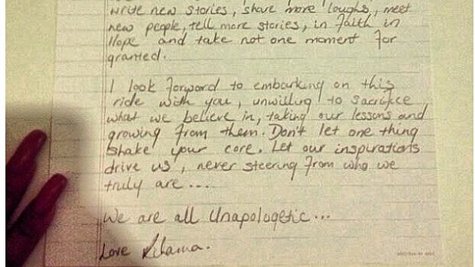 Pretty much whenever Rihanna sets a record -- whether its snagging another Billboard Hot 100 hit single or reaching #1 on the albums chart -- she tweets a word of thanks to her fans. But this week, she's gone a step further, writing a handwritten note to her supporters, which she posted on Instagram .
"Dear Navy," Rihanna writes, "We continue down this road together, strong, united, uncensored and fearless. There's no question that life throws us curve balls, we do our best to deal with them, take the lessons and keep it moving without regrets."
The singer -- who, last month, traveled to seven countries in seven days aboard a Boeing 777 filled with journalists, fans and her crew -- looks back on her career, adding, "Throughout 7 years and 7 albums, there has been so much to be happy about, many fun filled moments..."
Starting in March, Rihanna will hit the road for her Diamonds tour, which will stop in cities throughout the U.S., then move on to Europe. "As we continue this journey together, we'll write new stories, share more laughs, meet new people tell more stories, in faith in hope and take not one moment for granted," Rih writes.

The singer closer out her letter, "We are all Unapologetic... Love Rihanna."
In other Rihanna news, she'll perform on the season finale of NBC's The Voice , December 18.
Copyright 2012 ABC News Radio