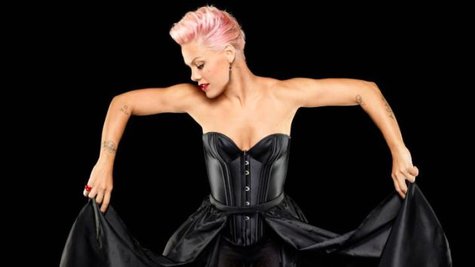 In the past, Adele has credited Pink with being one of her biggest musical inspirations, and now Pink has returned the favor, saying Adele would be her dream female duet partner.
Asked by the British paper The Sun which woman she'd most like to sing with, Pink said, "I have to be able to hear your pain. Therefore, I really like Adele. She has the amount of pain I require in her voice. She sounds heartbroken and beautiful. Like a songbird."
When Adele was 13 or 14, she saw Pink perform at London's Brixton Academy, when she was promoting her breakthrough album, M!ssundaztood . "I had never heard...someone sing like that live," Adele told Spinner.com . "I remember sort of feeling like I was in a wind tunnel, her voice just hitting me. It was incredible." Adele noted that it was a "defining moment" for her.
Yet despite comments like that about her talent, and despite all her album sales, hits and awards, Pink says she remains insecure. As she tells The Sun, "I still feel like I have so much to prove to people -- they still don't get it. I'm always going to feel like a really popular underdog. People to this day still go, 'Wow, you can sing!,' and it's been like 13 years of singing!"
Copyright 2012 ABC News Radio