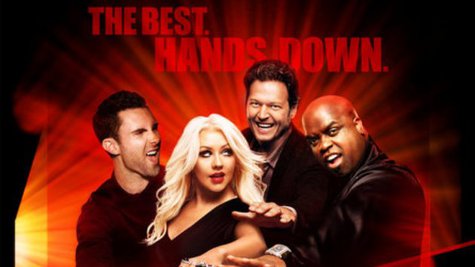 The finalists for Season 3 of NBC's The Voice will be Scottish rocker Terry McDermott , pop singer Cassadee Pope and Nicholas David , a father of two.
McDermott and Pope both represent Blake Shelton 's team. Nicholas David is coached by Cee Lo Green .
Tuesday's results show saw the departure of semifinalist Trevin Hunte , who had been mentored by Cee Lo.
Adam Levine and Christina Aguilera have no acts remaining, and are now impartial judges.
Tuesday's show featured collaborations between the semifinalists. Terry and Cassadee teamed up to duet on "Little Talks," by Of Monsters and Men . Nicholas and Trevin joined forces to sing Mariah Carey 's "Hero."
Several favorite performers from last season returned to The Voice stage to entertain. Juliet Simms performed her new single, "Wild Child." Chris Mann sang "Roads" and RaeLynn gave us her latest, entitled "Boyfriend."
The final live performances of The Voice will take place on Monday at 8:00 p.m. Eastern time.
Copyright 2012 ABC News Radio