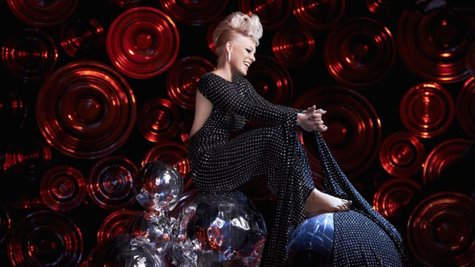 Pink's latest hit "Try" is one of the standouts on her album The Truth About Love , but she has mixed feelings about it -- since it's the one track on the disc she didn't have a hand in creating.
"'Try' is the song on the album that I did not write, and funny enough, it's everyone's favorite!" she laughs. "So, I kind of take offense to that!"
Of course, Pink is wise enough to recognize a good song when she hears it, even if she had nothing to do with it.
"You know, I like to think of myself as this songwriter that's getting better and better but honestly when I hear [that] song, I'm like, 'God, I could never write something that great and that simple,'" she explains. "So, you know, it spoke to me and I love that song. It's one of my favorites, too."
Pink is looking forward to highlighting "Try" during her upcoming Truth About Love tour, which gets underway early next year.
"Because I tour so much now, which is such a blessing, I always come from a live perspective and I know that that song is gonna give me a live thing that I wouldn't otherwise have," she says, giving another reason why she decided to record the track. "It's a very sexy song and it's a lot of tension in that song and that gives someone like me a lot to work with from a live perspective."
Pink's already given us a taste of how sexy "Try" can be live, with her steamy dance performance of it on the American Music Awards, though she may have a different staging in mind for the tour.
Copyright 2012 ABC News Radio