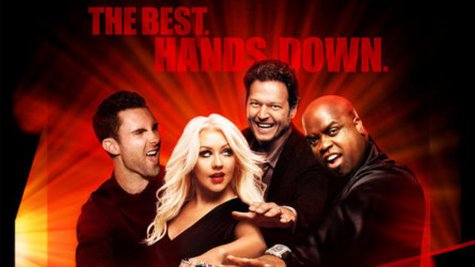 The final four contestants performed for America's votes on Monday night's live semifinal edition of The Voice . Singers representing teams coached by Blake Shelton and Cee Lo Green are all vying for a place in next week's final. Christina Aguilera and Adam Levine have no team members left to coach and will now offer advice as impartial judges. One act will be sent home during Tuesday's elimination show.
Monday's show featured a special guest appearance by Michael Buble , who got into the festive spirit singing "Christmas (Baby Please Come Home)" by Darlene Love . Blake was reunited with his entire Season 3 team, as they backed him up on his version Irving Berlin 's "White Christmas."
Before each performance, the contestants were all shown in prerecorded segments visiting their hometowns. Here's a brief look at what happened:
Team Cee Lo:
-- Trevin Hunte returned to Georgia to see his family who spoke of their pride for the 18-year-old. He visited his old middle school, where he first learned to sing in public. He dedicated "Wind Beneath My Wings," made popular by Bette Midler , to the school kids. Adam said the song choice was exactly right. Christina said the song was already a favorite but Trevin took it to a whole new level. Cee Lo called Trevin's voice "amazing and beautiful."
-- Going back to Minnesota for his homecoming, Nicholas David visited his family in their new home. He and his expectant wife went to the doctor's office to listen to their baby's heartbeat. Nicholas also played for his local friends and fans. Performing for the first time without his trademark glasses, he dedicated "You Are So Beautiful," made popular by Joe Cocker , to his family. Adam called Nicholas "a soulful person." Cee Lo called the performance "beautiful and heartfelt."
Team Blake:
-- Returning to West Palm Beach, Florida, Cassadee Pope visited with her family and boyfriend. She was interviewed by local radio and received the key to her city. She performed "Stupid Boy," by Keith Urban . Christina said Cassadee's voice was "always perfect" and that she brought passion to her performances. Blake said Cassadee has an extraordinary ability to connect with the lyrics of any song that she sings.
-- Scottish rocker Terry McDermott went home to New Orleans to surprise his wife and son. He donated some memorabilia to the Hard Rock Café and received a visit from his uncle and aunt, who flew in from Scotland. Terry sang "Let It Be," by The Beatles . Adam called Terry "so wonderful," and thought the performance was inspiring. Blake said the song was "sacred ground," and that only singers like Terry should attempt it, going so far as to say the performance was "musical perfection."
The Voice returns to NBC on Tuesday at 8:00 p.m. Eastern time.
Copyright 2012 ABC News Radio