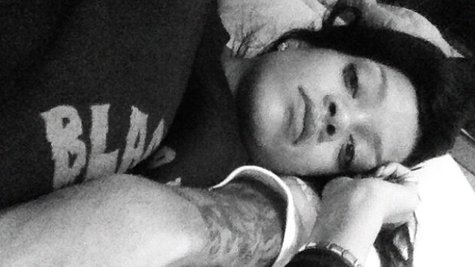 Chris Brown was in Paris over the weekend, and surprise, surprise, so was his ex-girlfriend Karreuche Tran . Her pal Ugo Mozie , who is Chris' stylist, took to Instagram with a photo of himself, Karreuche and a friend as they headed to the City of Lights, where Chris was performing.
There's a good chance that Chris and Kae met up, especially since Chris and his entourage were spotted around town wearing The Kill brand hats, created by Karreuche and her business partner, Ugo.
Rumors of the possible Chris and Karreuche meeting apparently didn't sit well with Rihanna , who, as fate -- or strategic scheduling -- would have it, was in Germany, and headed to Paris. Before she got there, she reportedly let off a string of angry tweets Friday, including, "Examine what you tolerate," "Goodbye muthaf****," and "You give, you get, then you give it the f**k back."
That's according to the Daily Mail which took note of Rih's tweets before she deleted them, later changing her tune to something sweeter on Saturday. "Damn....... I miss my ni**a #thuglife #BFFlife," she captioned an older photo showing herself tucked beneath what looks like Chris' tattoo-covered arm.
On Sunday she apparently made it to Paris, posting a photo of what appears to be her hotel room. " Risky business #Paris ," she captioned the risque snapshot , which -- if you look closely -- shows her legs jutting out the bottom left corner. From the looks of it, she's on her knees.
Copyright 2012 ABC News Radio