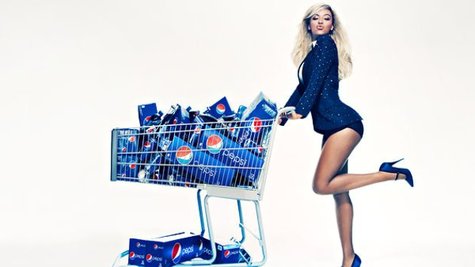 When Beyonce performs at halftime at the Super Bowl this coming February, the show will be sponsored by Pepsi. Now, the singer has cemented her relationship with the soft drink company, in a deal which sees her being named Pepsi's "brand ambassador."
AdAge.com reports that Beyonce and Pepsi will work together to develop "new content and innovative ways to engage fans, consumers and retailers to benefit both brands." In addition, Bey will appear in print ads for the soft drink, on in-store advertising, and early next year, she'll star in a new Pepsi "Live for Now" TV commercial. Nicki Minaj was featured in a similar spot early in 2012.
The New York Times further reports that Pepsi is setting up what's described as a "multimillion-dollar fund to support the singer's chosen creative projects."
In a statement to the Times , Beyonce says, "Pepsi embraces creativity and understands that artists evolve. As a businesswoman, this allows me to work with a lifestyle brand with no compromise and without sacrificing my creativity."
Pepsi has had a relationship with Beyonce since 2002, reports AdAge.com, but this new deal extends that partnership.
Copyright 2012 ABC News Radio