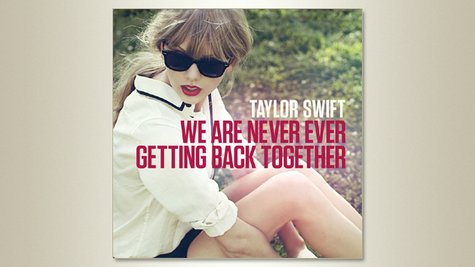 Rolling Stone magazine has released its annual list of the 50 Best Songs of 2012 , and Taylor Swift's "We Are Never Ever Getting Back Together" comes in at an impressive #2 on the list. The mag describes the song as "a perfect three-minute teen tantrum about country girls getting mad at high-strung indie boys," which topped the charts "faster than you can say, ' This is exhausting.' "
Taylor's song was beaten out for the #1 spot by "Hold On," a song by the female-fronted alt-rock band Alabama Shakes .
Some of the other big hits of the year didn't fare so well on Rolling Stone's chart. The next-highest when it comes to pop hits is fun.' s "Some Nights," in at #11. Usher's "Climax" is ranked at #15, while PSY's "Gangnam Style" is #25. The Lumineers' "Ho Hey" is #27, and then there's a steep plunge all the way to #44, where The Wanted's "Glad You Came" ranks.
Justin Bieber's "Die in Your Arms" is #45, despite the fact that it wasn't a single, and Maroon 5's "Payphone" is #46. Bringing up the rear at #50? Carly Rae Jepsen's "Call Me Maybe." Sorry, Directioners -- there are no songs by 1D on the list.
On Rolling Stone's list of the 50 Best Albums of 2012, pop music fares even worse. The highest any pop artist's disc is ranked is #17 -- that's John Mayer's Born and Raised . Taylor Swift's Red is #31, while fun.'s Some Nights is #43.
The magazine's #1 album of the year is Bruce Springsteen' s Wrecking Ball.
Copyright 2012 ABC News Radio