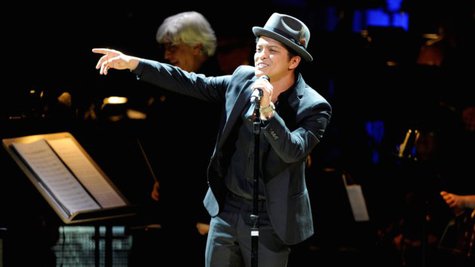 Bruno Mars showed off his musical range when, during an appearance on British radio, he not only performed his hits, but also songs from Jimi Hendrix ...and the Walt Disney film The Little Mermaid.
The singer's seven-song live set took place this past Thursday when Bruno appeared on BBC Radio 1's Live Lounge , which always invites artists to cover other artists' songs. Bruno channeled his inner Disney princess to perform a bit of The Little Mermaid song "Part of Your World," and then rocked out on "Under The Sea" from the same film. Afterward, Bruno exclaimed, "They should have never let us on the radio!"
Bruno turned up the heat for his take on the Jimi Hendrix classic "Fire," and, of course, played his hits "Locked Out of Heaven," "Runaway Baby," and "Grenade." He also put listeners in a holiday mood by singing the Christmas standard "Silent Night."
Bruno's Unorthodox Jukebox will be out on December 11.
Copyright 2012 ABC News Radio