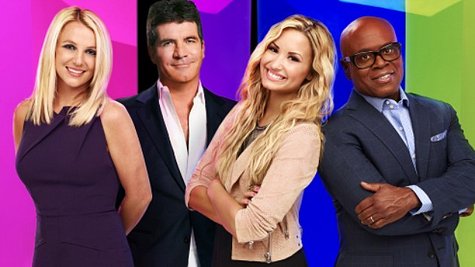 Each of the final six contestants sang twice for America's votes on Wednesday's edition of The X Factor . Only four acts will survive this week, with a place in the semifinals at stake.
Each act performed an "unplugged" tune, accompanied only by acoustic instruments, and a second song chosen by a public vote in the Pepsi Challenge.
At the start of the show, newlywed host Mario Lopez flashed his wedding ring. He recently married girlfriend Courtney Mazza .
Here's a rundown of Wednesday's performances:
Young Adults/ Demi Lovato :
-- CeCe Frey was told by Simon to pack her bags after last week's performance. She's been consistently near the bottom of the weekly leader boards. For her unplugged song, she chose "Edge of Glory" by Lady Gaga . L.A. said he was starting to become a fan. Britney wasn't sure and thought the performance was "good" but not great. Simon said CeCe was not worth the $5 million recording contract prize.
-- The public's song choice for CeCe was "Part of Me" by Katy Perry . L.A. didn't love the performance, calling it "karaoke." Britney found it entertaining. Simon liked the fact that CeCe keeps on trying.
Groups/ Simon Cowell :
-- Boy band Emblem3 was worried that their act might be getting too predictable. The stripped-down challenge would perhaps help with changing that perception. They chose to sing the Bruno Mars song "Just the Way You Are." L.A. said it was "pretty good." Britney called it Emblem3's best performance. Demi disagreed and called them a "downgraded version of the Jonas Brothers five years ago."
-- America chose "Forever Young" by Alphaville for Emblem3's second song. L.A. said they "nailed it." Britney called it a "superstar performance." Demi wanted to see the boys command the stage more.
-- Fifth Harmony spent most of their rehearsal time without Ally Brooke , who had flown home to attend her grandfather's funeral. They practiced as a foursome but Ally returned in time to take to the live stage for their version of Adele' s "Set Fire to the Rain." L.A. was disappointed not hear any actual harmonies. Britney couldn't see what made the girls stand out. Demi didn't like "the group thing," and pointedly said a couple of them should be solo singers.
-- The public chose Demi Lovato's "Give Your heart a Break" for Fifth Harmony's second number. L.A. called it their best performance. Demi thought the song should have been theirs and that they sang it better than her original. Simon called them a legitimate girl group.
Teens/ Britney Spears :
-- Finishing atop the leader board last week, the pressure was on Carly Rose Sonenclar to keep up the pace. She sang an acoustic version of "As Long as You Love Me," by Justin Bieber . L.A. was satisfied that Carly could be a recording artist. Demi thought it was a better version than the original. Simon saw a star emerging.
-- Carly Rose's second song was Beyonce 's "If I Were a Boy," chosen by America's votes. L.A. said Carly never lets him down. Demi said it was a "phenomenal vocal." Simon agreed and also said Carly had a "phenomenal night."
-- Diamond White finished last week at the bottom of the leader board. She decided to put that behind her and put her heart and soul into this week's challenge. For her unplugged song, she chose "It's a Man's, Man's, Man's World," by James Brown . L.A. liked the showbiz attitude. Demi thought Diamond "pulled it off." Simon thought it was "screechy in parts."
-- The public voted for Diamond to sing, appropriately, "Diamonds'' by Rihanna . L.A. didn't like her rendition of the song. Demi disagreed and thought Diamond did it justice. Simon pointed out that Diamond was performing on a night when everyone else was strong.
Over 25's/ L.A. Reid :
-- Country singer Tate Stevens is the last of L.A.'s acts still remaining in the contest. He is worried that he may lose his job if music doesn't work out for him. He sang an acoustic "Livin' on a Prayer" by Bon Jovi . Britney thought Tate should stick with country music. Demi said he missed the high notes in the song and Simon agreed that it was "like taking a fish for a walk."
-- Tate's song suggested by the public was "If Tomorrow Never Comes," by Garth Brooks . Britney said it was "brilliant." Demi said the song made her sleepy but acknowledged that Tate has a huge future ahead. Simon was happy that Tate was representing the Over 25s, and said he reminded him of Garth Brooks.
The X Factor will return to Fox on Thursday at 8:00 p.m. Eastern time.
Copyright 2012 ABC News Radio