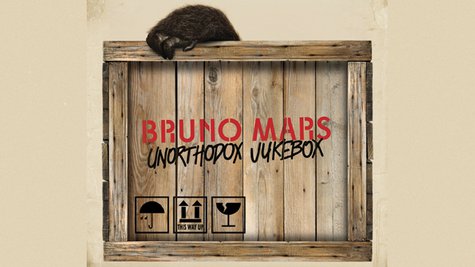 If you just can't get enough of Bruno Mars , you may want to purchase the Target edition of his upcoming album, Unorthodox Jukebox. Bruno has teamed with the retailer for this special edition, which will feature five bonus tracks.
The extra tracks include demo versions of the songs "Young Girls" and "Gorilla"; remixes of the album track "Moonshine" and the hit "Locked Out of Heaven"; and a new song, "Old & Crazy," which is a duet with Grammy-winning jazz artist Esperanza Spalding .
The Target edition also has different artwork. While the regular album cover shows an enormous gorilla embracing a jukebox, the Target version shows a wooden crate with Bruno's name and the album title printed on it, and the arm of the gorilla emerging from the crate.
In a statement, Bruno said, "When creating my new album, I experimented with different sounds and styles and really pushed myself," adding, "I'm honored to partner with Target for this exclusive edition, where I get to share a little bit more with my fans."
Unorthodox Jukebox will be available December 11.
Copyright 2012 ABC News Radio