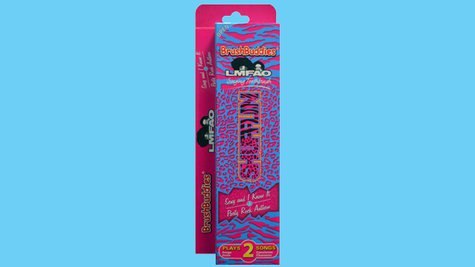 Just what everyone wants when they brush their teeth in the morning: the mental image of a Speedo-clad Redfoo singing about how sexy he is. That's apparently the premise behind the new partnership between LMFAO and Brush Buddies, a company that makes singing toothbrushes.
The singing LMFAO toothbrushes, coming this January, will serenade users with two-minute long versions of "Sexy & I Know It" and "Party Rock Anthem," encouraging users to brush their teeth for the dentist-recommended time of two minutes.
Also coming in 2013 is the PSY singing toothbrush, which will play "Gangnam Style." In addition, Brush Buddies makes Justin Bieber and Lady Gaga singing toothbrushes, which play hits like "Boyfriend" and "Bad Romance," respectively.
The singing toothbrushes retail for $14.95. The LMFAO model can be pre-ordered now.
Copyright 2012 ABC News Radio