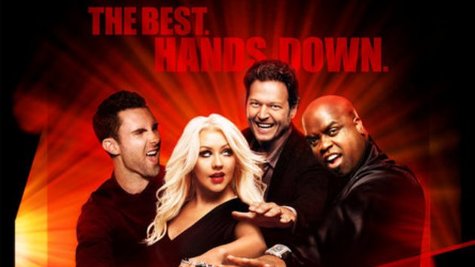 The semifinals of The Voice will be a showdown between singers representing Blake Shelton and Cee Lo Green .
Two more contestants were sent home on Tuesday's live results show, both from Adam Levine 's team. Melanie Martinez and Amanda Brown failed to gain enough of America's votes to remain in the contest. This means Adam and Christina Aguilera are now without teams to coach.
Here's how the semifinals will shape up:
Team Blake: Terry McDermott and Cassadee Pope.
Team Cee Lo: Trevin Hunte and Nicholas David.
Ne-Yo made a guest appearance. He was joined by Team Adam's Amanda Brown on "Let Me Love You." Matchbox Twenty also performed. They were joined by Nicholas David and Trevin Hunte of Team Cee Lo for their song "Overjoyed."
Some of The Voice acts also collaborated on songs Tuesday. Terry McDermott and Trevin Hunte sang "Feel Again," by One Republic . Amanda Brown and Cassadee Pope performed Kelly Clarkson 's "Breakaway." Nicholas David and Melanie Martinez sang "Criminal," by Fiona Apple .
The Voice returns to NBC on Monday at 8:00 p.m. Eastern time.
Copyright 2012 ABC News Radio