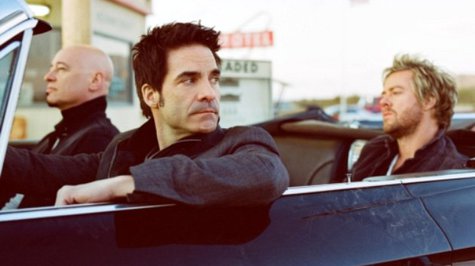 Ever since Hurricane Sandy devastated the East Coast, Train has been looking for a way that they could help the storm's victims. Now, they've found one: they're doing a special benefit concert on December 5 in Sea Bright, New Jersey, a barrier island community that was particularly hard hit.
Train will give an intimate, private performance for Sea Bright first responders and residents at the local firehouse, and VH1 will film the event. It will air as a series of vignettes during Christmas Day, with the aim of raising awareness for the local non-profit organization Sea Bright Rising . A new piece of the story will air at the top of each hour from 8 a.m. to 10 p.m. ET/PT on December 25.
How did Train choose Sea Bright? Because after the hurricane, the band received an email from a 15-year-old fan who'd created a video about how the storm had impacted her town. They were so moved that they knew they'd found the perfect way to help.
In a statement, frontman Pat Monahan called the damage from Hurricane Sandy "so tremendous it was almost incomprehensible," and added, "When our fan and friend Charlotte Nagy sent us her video of Sandy's effects on her town, the decision to come to aid Sea Bright was obvious."
He continued, "VH1's help here is important as well. With them we can get the word out about Sea Bright Rising throughout their networks on Christmas Day. We are hoping to add any bit of light to Sea Bright as they go through their recovery."
Copyright 2012 ABC News Radio