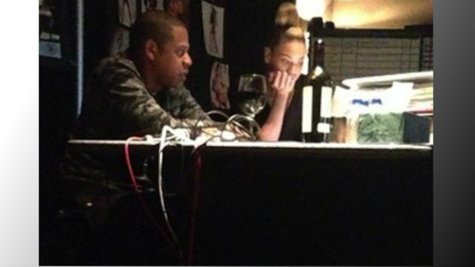 The Carters are at it again. Beyonce and Jay-Z were photographed side-by-side in the recording studio over the weekend, though it's unclear exactly what they were working on. Most folks, however, would guess that Bey, who posted a photo of herself in the recording booth a few weeks ago, is working on a follow-up to her last album, 4 .
An up-and-coming singer, songwriter and producer by the name of Jo'zzy tweeted the Jay and Bey picture, along with the message, "THIS IS WHO I'M LOOKING AT RIGHT NOW! JAY Z AND BEYONCE #BLESSED TO BE HERE." In another tweet, she wrote, "She reminds me of Ester Dean and Missy,' says Beyonce!" The updates were deleted though, after all parties involved were flooded with messages from curious and eager fans.
If you haven't heard of Jo'zzy, she explains in her Twitter profile that Missy Elliott is her mentor. She's also been working with Timbaland , who's featured in a handful of her photos on Instagram.
As for Beyonce, in addition to reports of a new album, she announced last month that she's executive producer of an HBO documentary about herself. The film will premiere in February, and she just released a trailer for the project. Footage includes a brief look at her baby bump in the months before her daughter Blue Ivy 's birth.
Copyright 2012 ABC News Radio