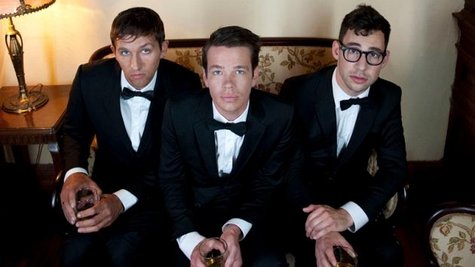 There's only one music act on Entertainment Weekly 's annual list of Entertainers of the Year, and no, it isn't Gotye , Carly Rae Jepsen or the "Gangnam Style" dude. It's fun. , the New York-based alt-rock band who broke out big this year with pop smashes like "We Are Young" and "Some Nights."
For reasons unknown, the magazine tapped actress Nina Dobrev of The Vampire Diaries to pen a tribute to the trio, and she explains some of the reasons why she loves the band, and, in particular, their lead singer, Nate Ruess .
"Nate Ruess has such a unique voice, and in a world where everyone and their brother sings the same and is trying to copy the same hit song, being different is what makes him stand out and what makes us listen," she writes, praising his "soulful and raw" lyrics, and his "thoughtful and unapologetic" approach to songwriting. "He's the voice of our inner dialogue," she adds.
Dobrev gushes, "If I ever met him, I'd probably go all fangirl on him. I would tell Nate he has made many a day sunny for me and made me smile on too many occasions to count, and I would thank him for that. When you listen to [their album] Some Nights , it makes you stop, and it forces you to live in the moment and appreciate how exciting it is."
She finishes by raving that fun. "empowers me and really makes me feel infinite."
Copyright 2012 ABC News Radio