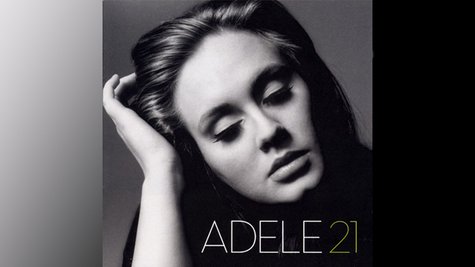 This past week, Adele joined a very exclusive club. Her album 21 was certified Diamond, for sales of 10 million copies, and there are only 20 other albums to have reached that sales milestone since 1991, when Nielsen Soundscan began tracking this stuff.
So who else is in this prestigious club? Well, the biggest-seller album is Metallica's self-titled 1991 disc, known as "The Black Album." Since 1991, it's sold 15.8 million copies. Shania Twain 's Come On Over is in second place, with 15.5 million in sales, while Alanis Morissette 's Jagged Little Pill is third, having sold 14.8 million since it came out.
There are only two artists who have more than one album on the list of 10-million+ sellers: Eminem and The Backstreet Boys .
The rapper's 2000 album The Marshall Mathers LP has sold 10.65 million copies, while his 2002 disc, The Eminem Show , has moved 10.12 million copies since its release. The Backstreet Boys' self-titled 1997 album has racked up 10.13 million in sales, while their 1999 disc Millennium has sold a whopping 12.20 million copies.
Of course, there are many other albums which have sold more than 10 million copies -- like Michael Jackson 's Thriller -- but again, we're only talking about those released in what's called the Soundscan Era.
Courtesy of Billboard, here's a list of the 21 albums that have sold 10 million copies or more during the era, along with the number of weeks it took the album to reach the 10 million mark:
1. Metallica, Metallica (1991), 15.83 million, 337 weeks
2. Shania Twain, Come On Over ( 1997), 15.52 million, 96 weeks
3. Alanis Morissette, Jagged Little Pill (1995), 14.80 million, 66 weeks
4. Backstreet Boys, Millennium (1999), 12.20 million, 39 weeks
5. The Beatles, 1 (2000), 12.11 million, 227 weeks
6. Whitney Houston/ Soundtrack, The Bodyguard (1992), 12.05 million, 72 weeks
7. Santana, Supernatural (1999), 11.73 million, 60 weeks
8. Creed, Human Clay (1999), 11.62 million, 93 weeks
9. Bob Marley & the Wailers, Legend (1984), 11.17 million**, 18 years
10. *NSYNC, No Strings Attached (2000), 11.13 million, 43 weeks
11. Norah Jones, Come Away with Me (2002), 10.88 million, 259 weeks
12. Celine Dion, Falling into You (1996), 10.80 million, 160 weeks
13. Eminem, The Marshall Mathers LP (2000), 10.65 million, 343 weeks
14. Britney Spears, . . . Baby One More Time (1999), 10.57 million, 106 weeks
15. Hootie & the Blowfish, Cracked Rear View (1994), 10.28 million, 442 weeks
16. Soundtrack, Titanic (1997), 10.17 million, 263 weeks
17. Backstreet Boys, Backstreet Boys (1997), 10.13 million, 226 weeks
18. Eminem, The Eminem Show (2002), 10.12 million, 489 weeks
19. Usher, Confessions (2004), 10.04 million, 433 weeks
20. Linkin Park, Hybrid Theory (2000), 10.03 million, 617 weeks
21. Adele, 21 (2011), 10.02 million, 92 weeks

** 11.17 million between 1991-present; earlier sales not included
Copyright 2012 ABC News Radio