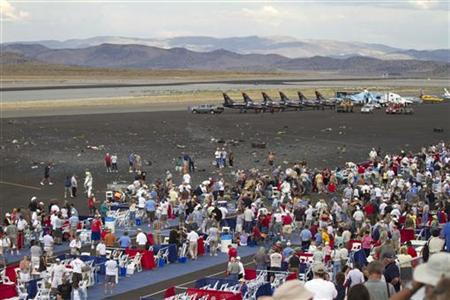 LAS VEGAS (Reuters) - An 11th person has been confirmed as killed in last week's crash of a World War Two-era plane near the grandstand at a Nevada air race, authorities and a lawyer for the man's family said on Tuesday.
Attorney Tony Busby said members of Craig Salerno's family were told on Monday night that Salerno, 50, was among those who died in Friday's accident and that his remains had been identified through DNA testing.
Michele Anderson, a spokeswoman for the city of Reno, confirmed that Salerno was among the 11 victims of the crash and said it was possible the death toll could rise further if more remains are identified by medical examiners.
More than 50 other people were taken to local hospitals with injuries and four of them remained in critical condition on Tuesday.
Salerno, a married father of two from Texas, had been attending the 48th Annual National Air Championship Races at an airfield near Reno as a staff member of the Wings Over Houston air show, Busby said.
"It is with great sadness that we confirm one of our Wings Over Houston Staff Members, Craig Salerno, lost his life during the incident at the National Championship Air Races at Reno," Wings over Houston said in a statement.
"Craig has been a tremendous supporter and long-time volunteer of the Airshow," Wings Over Houston said. "We extend our heartfelt thoughts and prayers to Craig's family and friends during this difficult time."
Federal safety investigators are trying to determine what caused 74-year-old pilot Jimmy Leeward to lose control of his vintage P-51 Mustang and slam into a box seat area in front of the grandstand.
Leeward, a Florida-based real estate developer who was well-known in air racing circles and had flown as a stunt pilot in movies, was among those killed.
A photograph snapped seconds before the crash appears to show a component of the plane's tail section falling off, and the National Transportation Safety Board has said that would be one aspect of the crash that will be investigated.
The accident took place a day before another vintage plane crashed in a fireball during an aerobatic demonstration at a West Virginia air show, killing the pilot. The two incidents have raised new questions about the safety of such events.
A total of 30 people have been killed in the Reno Air Races since they began in 1964, though Reno Mayor Bob Cashell has said that this year marked the first spectator deaths.
Leeward had modified his plane, which was built during World War Two and dubbed "The Galloping Ghost" after a nickname for Chicago Bears running back Red Grange, to make it faster.
The city of Reno has scheduled a memorial service for 6 p.m. on Sunday and will plant plant a tree for the victims of the crash.
In addition to Salerno, the victims identified on Tuesday were John Craik, 45, from Gardnerville, Nevada, Cheryl Elvin, 71, from Lenexa, Kansas, Wendy Hewitt, 56, from Mohave, Arizona and Michael Wogan, 22, from Scottsdale, Arizona.
(Reporting by Dan Whitcomb in Los Angeles and Cynthia Johnston in Las Vegas; Writing by Dan Whitcomb)