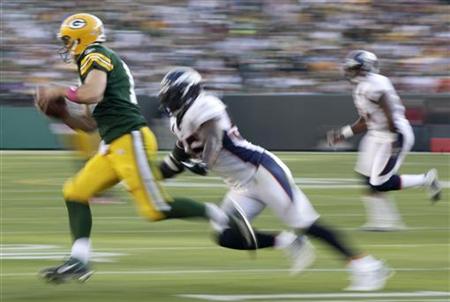 By Simon Evans
(Reuters) - The Green Bay Packers, the first team to repeat as Super Bowl winners back in the 1960s, are showing signs they have the talent and the depth to go all the way again this season.
The reigning Super Bowl champions are 4-0 after week four of the season with Mike McCarthy's team showcasing its impressive offense in a 49-23 crushing of the Denver Broncos on Sunday.
Quarterback Aaron Rodgers threw for a career-high 408 yards, tossing four touchdown passes, and as if that was not enough, rushed for two more scores.
Rodgers, last season's Super Bowl most valuable player, has already amassed 1,325 passing yards this season, the most any Packers quarterback has managed in the opening four games of a season.
His display on Sunday left Denver's experienced coach John Fox applauding his class and that of a Green Bay team that show no signs of easing off after last year's success.
"He is playing as well as any quarterback that I have seen and this is my 23rd season," Fox told reporters.
"He has a pretty good supporting cast and Mike McCarthy and his staff do an outstanding job. They are pedal-to-the-metal and they execute, very, very well."
What makes the Packers offense so deadly is the expansive range of weapons available to Rodgers.
On Sunday Greg Jennings had 103 yards receiving and a touchdown, Jordy Nelson added 91 yards on five receptions, Randall Cobb caught two passes for 75 yards. James Jones, James Starks, Jermichael Finley, Donald Driver and John Kuhn also had receptions.
Few things please Packers fans more than being reminded of their success in the 1960s under Hall of Fame coach Vince Lombardi and indeed you have to go back to the start of that decade to find the last time Green Bay had a run that betters the current one.
Including playoffs, the Packers have now won 10 consecutive games which is the longest streak since a 12-game run in 1961-62.
This season's 148 points is the most-ever by the franchise for an opening four games.
While it is a cliche in the NFL that it is almost impossible to go back-to-back in such a closely competitive league, the record shows it is not that rare. In fact there has been at least one repeat winner in each decade since the Super Bowl began with consecutive wins for the Packers in the 1966 and 1967 seasons.
"I'm sure people will notice," said nose tackle B.J. Raji, "It is hard to overlook an undefeated returning Super Bowl champion."
(Reporting by Simon Evans in Miami; Editing by Gene Cherry)