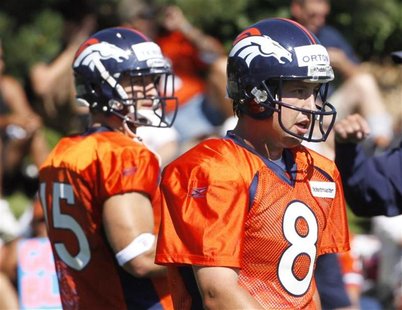 (Reuters) - The Denver Broncos cut former starting quarterback Kyle Orton on Tuesday now that his replacement has helped get the once-struggling team back into the National Football League (NFL) playoff picture.
Orton, who joined the Broncos in 2009 after a trade with the Chicago Bears, was replaced by Tim Tebow as the starter last month during a loss to the San Diego Chargers that dropped Denver to 1-4 on the season.
Tebow, a fan favorite and former Heisman Trophy winner as the top U.S. collegiate player, has helped the team improve to 5-5, just one game out of first place in the AFC West.
"We thought it was best for the Broncos at this time as well as for Kyle to catch on with a different team," Broncos Vice President John Elway said on his weekly Internet show.
"Kyle is going to have more options in the NFL and he'll get an opportunity to play somewhere else and we wish him the best of luck."
There was immediate speculation that Orton could return to Chicago since Bears quarterback Jay Cutler needs surgery after breaking the thumb on his throwing hand on Sunday.
(Reporting by Gene Cherry in Salvo, North Carolina; Editing by Frank Pingue)